About Alicia Popoff & Leslie Potter
We are an artist couple living on the Canadian Prairies. We have MFAs from the University of Saskatchewan and our art is in public and private collections. We have been in a number of group and two person shows together; as well we have collaborated on several large scale sculptures. Usually though, we create and exhibit our art individually.
We are inspired by our experiences and our environment and express these influences in an abstract style.
Our individual art seems to go well together. This is probably because we both work entirely from our imaginations in our art making. There is a connection with our images, the elements we use and the compositions we evolve. It may be because we live together, look at each other's work daily and often compare notes on it. This has been the impetus for our exhibition, THIRD SOUND.
Sharing our concepts and creations with others, such as with this tour, is exciting and important for us as artists.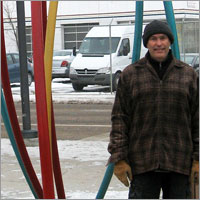 I sculpt in different materials in many sizes, from tabletop pieces to large-scale public art.
I especially love to work in welded steel because of its flexibility, permanence and lyrical potential.
My art expresses a fascination with energy by creating dancing forms in space. There is a meditative quality in many of my works. My influences come from my environment such as the vast prairie landscape where I live and my passions such as music.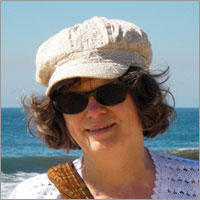 I work mainly in acrylic and mixed media such as collage using abstract imagery. I am influenced by many sources including the beauty of the prairie countryside where I live.
Light, colours and textures experienced through my surroundings become integrated in an imaginative process with lines, marks and shapes. Many layers of paint and materials create a tactile surface, a physicality in the art which is important to me.
Creating abstract, imaginative art with a tangible physicality is very challenging and satisfying.
We gratefully acknowledge the support of the following sponsors: